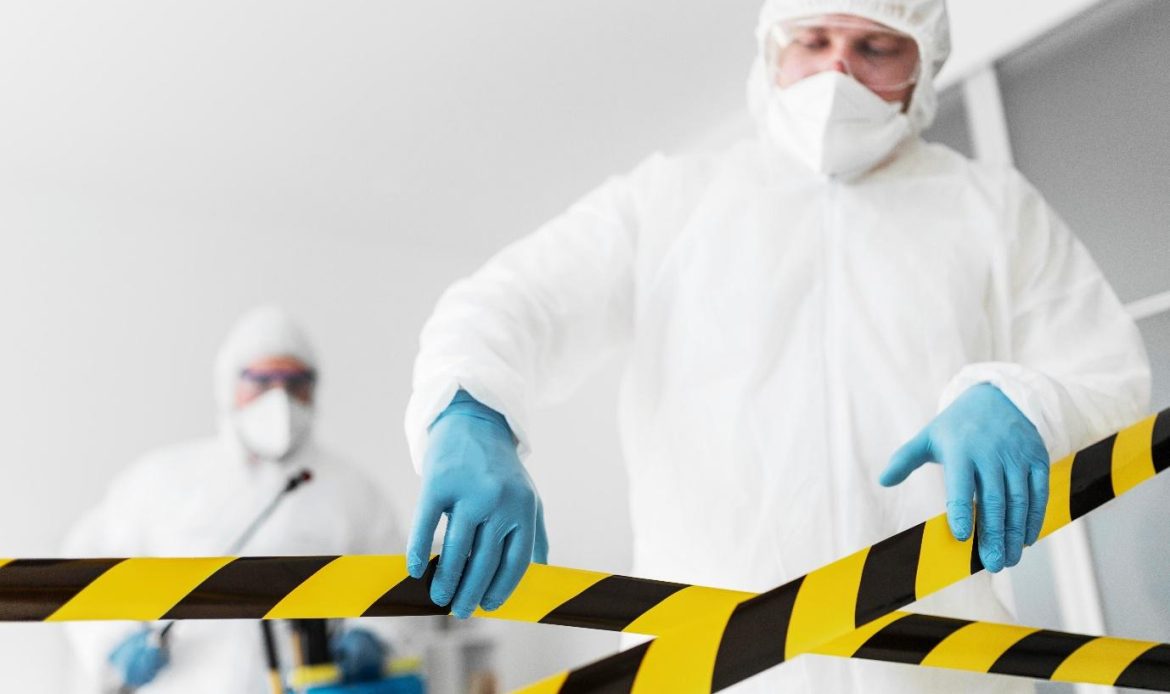 Your Trusted Biohazard Cleanup Experts in Titusville
Are you looking for a biohazard cleanup service in Titusville, Fl? Our team at RW Services is trained and equipped to handle the job. When our customers have a Biohazard situation, it's most likely to be a traumatic event. It isn't easy to deal with a death or a crime scene. These situations require the cleaning of chemical spills, human or animal remains, blood cleanup, or extensive collection habits. We understand the kind of mental state you are in and offer you a hassle-free biohazard cleanup service.
Our team at RW Services is certified to an expert level to handle all different biohazard situations. As a team that has dealt with biohazard cleanup service in Florida, including deal and crime scenes, we ensure exceptional cleanup services to residential and commercial clients in Titusville and the surrounding areas. With our extensive experience, skilled technicians, and commitment to safety, we are the go-to experts for handling biohazardous incidents with precision and compassion.
Common Biohazard Situations
Blood or/and bodily fluid

Human or animal remains

Crime scene cleanup

Extensive collection or hoarding

Chemical spill hazards

Death or suicide event
Important Things to Know
The state is not responsible for any crime scene cleanup. It's the property owner's responsibility to hire a biohazard cleaning company.

You must hire a licensed company with trained technicians to handle a crime scene cleanup in Titusville, Fl. 

The RW Services team cannot arrive on site before the police have gathered all evidence pertaining to the crime.
Our Biohazard Cleanup Services Include
Odor Control and Deodorization:

 We specialize in effective odor control and deodorization as part of our biohazard cleanup services in New Smyrna Beach, Fl, and nearby areas. We understand that biohazard incidents can leave behind unpleasant odors that linger in the affected area. Our team utilizes advanced techniques and specialized equipment to eliminate odors at their source, ensuring a fresh and clean environment.

Crime Scene Cleanup:

 Dealing with the aftermath of a crime is a traumatic experience. Our compassionate and discreet technicians are trained to thoroughly clean and disinfect crime scenes, ensuring the space is safe for occupants. As a trusted name for biohazard crime scene cleanup in Titusville,  Fl, we sanitize and disinfect all affected surfaces.

Blood Cleanup:

 handle blood cleanup effectively and safely. Blood spills can occur due to accidents, trauma, medical emergencies, or crime scenes, and they require immediate attention to prevent the spread of diseases and ensure the safety of individuals in the vicinity.

Fluid Remediation:

We have the expertise and equipment to handle fluid remediation in various scenarios, including water damage incidents, sewage backups, and incidents that involve hazardous fluids. We employ advanced techniques to safely extract, contain, and dispose of the fluids.

Sanitation And Sewage Cleanup:

Sewage spills and contaminated water can put life at risk and expose you to harmful bacteria, viruses, and other pathogens. Our trained team follows strict protocols to safely remove sewage and sanitize the affected area. We utilize specialized equipment, including high-powered pumps and extraction tools, to efficiently extract sewage and contaminated water.

Extensive Collection (Hoarding) Cleanup:  Hoarding situations often involve significant health risks due to the accumulation of biohazardous materials. Our team brings years of experience in biohazard crime scene cleanup. We undertake hoarding cleanup, removing debris, and sanitize the affected areas, and restoring a clean and livable environment.
RW Services is a team you can trust. Reach out to us today for a confidential consultation or emergency assistance. Our friendly staff is ready to help you and provide professional biohazard cleanup services in Titusville, FL, which you can rely on. At RW Services, we will partner in restoring safety and cleanliness to your property.